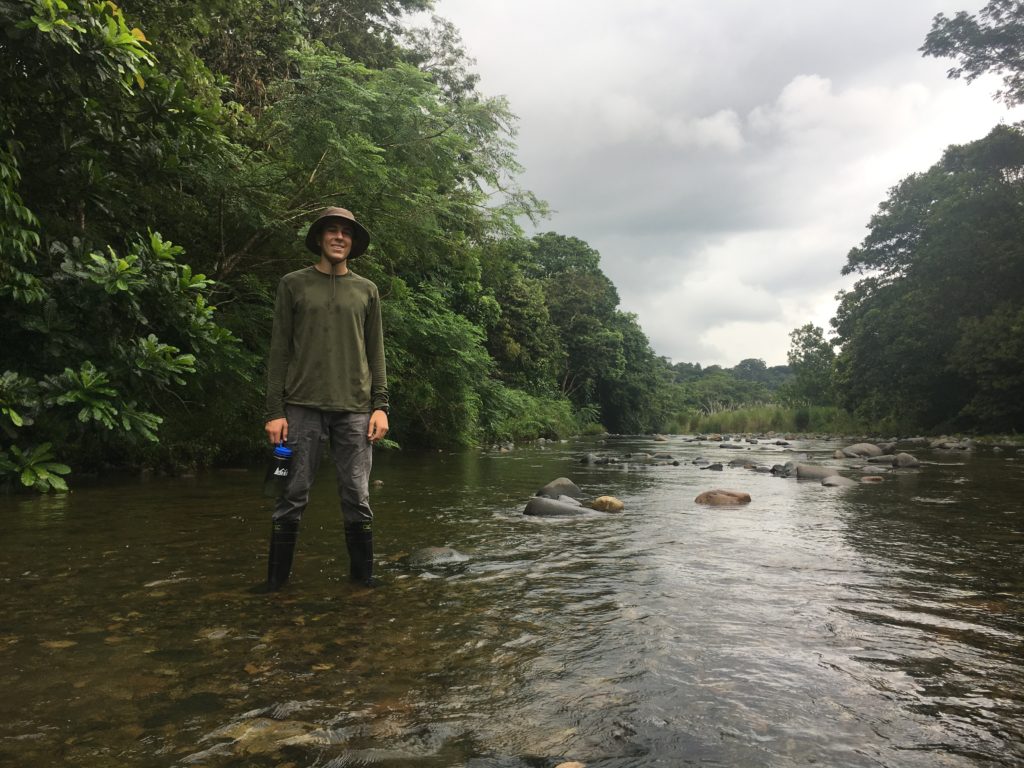 My name is Ryan Thompson and I am a rising high school senior at Menlo School. Because I had demonstrated commitment to ecology and sustainability, I was awarded a HAND Foundation grant to study tropical ecosystems in Central America and explore the use of satellite imagery to assist researchers. I was drawn to Cocobolo because of its critical location in the tropical corridor. I was lucky to be able to visit this summer and had an exciting and productive week. I am heading to college next year and hope to continue to pursue environmental studies.
I had an amazing experience at Cocobolo Nature Reserve! I hiked every day in the rainforest with resident scientist Stephane De Greef, where we ran into howler monkeys, tamarin monkeys, white-faced monkeys, tarantulas, an eyelash pit viper, a whip spider and many more cool animals. One day out on the trail, we came across a fer-de-lance, an extremely venomous snake, that was thankfully distracted by digesting a large meal. One night we took a hike at night up the Mamoni River and a friendly river otter swam right over to us. We also saw spiders that could run over the top of the river. The wilderness at Cocobolo is dense and incredibly beautiful and the chance to see many rare and endangered species was awe-inspiring.
Stephane and I had the opportunity to work on a research project where we analyzed satellite imagery to see changes in vegetation through rainy and dry seasons with a software program called QGIS. We were also able to use satellite imagery to begin mapping new trails that Stephane will be using to explore the area over the coming months. Using the software and satellite imagery, we discovered that approximately 23% of the valley inside the Mamoni Watershed area has been deforested. Preserving the local ecosystems is critical to supporting the diversity of wildlife that we experienced on our hikes every day.
Cocobolo's diverse ecosystems give visitors the opportunity to learn about a multitude of plant and animal species. Given that the Nature Reserve has primary rainforests, secondary rainforests, and cloud forests within it, I was able to learn about the subtle yet important differences between the habitats of organisms living in the region. Cocobolo serves as a safe haven for animals that use this forest area to safely live and cross this narrow area between North and South America.
CREA, the organization that runs Cocobolo, has a mission to conserve this spectacular land in Panama. Much more of the land where Cocobolo is located would have been deforested and made into cattle pastures if not for CREA establishing and maintaining Cocobolo Nature Reserve. CREA does amazing work with local farmers and cattle ranchers to try to encourage them to use techniques that won't harm the local natural environment. I really appreciate the work of Stephane at Cocobolo and Dr. Michael Roy and the team at CREA to create this truly unique experience. I would love to return to Cocobolo and I strongly encourage others who would like an incredible adventure and an opportunity to see rare species and wild nature to visit the Reserve!